Welcome

Covid-19: Monday 11 May 2020 update:
Weekly Classes continue Online These live classes will carry on until Social Distancing rules are relaxed. Hopefully the sliding scale fee now available by paypal or bacs makes it possible for those who otherwise mightn't be able, to join -
or try a free class at www.feldenkrais.co.uk - new downloads are up!
Individual sessions Online. While I am missing giving hands-on sessions, and am more limited in what I can offer, these individually tailored Awareness Through Movement lessons are proving surprisingly effective for those I have worked with before either in group or individually. Or - I'm finally formally offering Somatic Counselling sessions - a body-based inquiry method - can help iilluminate psychological and physiological patterns that can underly postural and movement issues if you wish to explore them. Especially helpful for long-standing issues. All are available via sliding scale fee.
"Thank you for today's class - I've been drawn to working with you for many months but live too far away and often work in London so it's always been too difficult to attend. Since todays class I have felt much taller and looser in my neck and shoulders - wonderful for me as this is where I hold on tight! I have also felt much calmer just being in the open honest envirnment you hold, albeit online and brief".
Talks/Events - Online
if you belong to a club/organisation and you feel other people could benefit from knowing about Feldenkrais, or about Somatics, I give mini-workshops/talks for a reasonable fee - please get in touch! (none are being scheduled at present of course) contact>
The Feldenkrais Method® - videos with Nikhila
A typical 'Awareness Through Movement' lesson (filmed in 2006):

https://youtu.be/tHsxqYwVEU0>
Sample one to one 'Functional Integration':
Resources
National Feldenkrais Awareness Week
- takes place in May each year -
TRY FROM A COLLECTION OF FREE DOWNLOADABLE LESSONS at
about Awareness Through Movement>

and 'the master's voice' - Dr. Moshe Feldenkrais - explains why
we do 1-1 Functional Integration, and what's different with and why we
do the groupwork, Awareness Through Movement... thanks to Buffy Owens,
Feldenkrais Practitioner USA, for her artistic skills here:
more about Functional Integration>
If you are doing these recorded lessons without prior experience: One important tip: 'Do not do anything that hurts' - is basic guidance for every Feldenkrais lesson. If pain persists seek medical advice. These lessons are not a substitute for medical advice given by your doctor.
Testimonials
"I can feel my WHOLE back now, and how it moves! its' such a joy!" Miriam
Privacy Policy
All personal information supplied on enquiring or booking with Lifeworks Somatics is held securely and is never shared with any third party without explicit consent. All personal records are held in a secure format.
By emailing us you can have your personal information corrected or removed from our records.
This website links to other sites - we aim to link only to sites that will respect your privacy.
Your use of this site indicates acceptance of this privacy policy.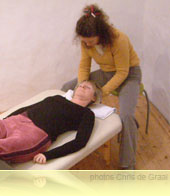 What's On Next from
DEVON UK
Weekly ATM classes - currently running ONLINE
Tuesday mornings 9.30-10.45
&
Thurs evenings 5.45-6.30
&
Saturday mornings 9.30-10.45
Next Workshops: Online - coming soon!
Jaw & Pelvis Connection
30 May, 6, 13 & 20 June
Individual Feldenkrais and Somatic counselling sessions
Tuesdays Wednesdays Thursdays
Online via Skype/Zoom
1hr or 40min sessions
with sliding scale fee.
Normally in Dartington on Tuesdays Wednesdays Thursdays, between 9.00 am and 6.00 pm. Weekend appointments available for those booking Intensives.
Discount offered for
Block of six at weekly intervals - less 10%
3-4 sessions in a week - less 10%
See our Facebook page:
"I am finding the work deeply interesting on all levels - physical, emotional and mental. And, very relaxing. I experience Feldenkrais as a way of 'moving beyond', of 'unlimiting the limited self' - Exploring my mind body connections at the gentle pace of weekly classes I find that the lessons continue a path of mindfulness that I trust.  My nervous system has learned to relax and let me take risks.  The ground becomes safe. " Sarah C
"Classes with you teaching have been a constant support to my life. They energise me in very subtle (and not so subtle!) ways - and enhance and help me maintain flexibility in mind and body. Often challenging, somehow the classes and your constant reassuring, gentle-but-firm, presence help reassure me that the world is OK! Rose B.
Since taking your classes and workshops I'm far more relaxed in my approach to any physical effort and! I've not need to go see an osteopath in nearly 2 years now after a history of regular treatments (((((-:  Muriel S.
"I look back over almost 12 years (eek!) since we met in your lovely garden studio and it's hard to believe how far I have progressed in spite of years of growing older! I enjoy taking lessons as a practice of staying present to the voice and what I can feel - all quite new. And now my husband is benefitting so much as well. Thank you!" J.A.